TT18AR - Aeronautical heat treatment machine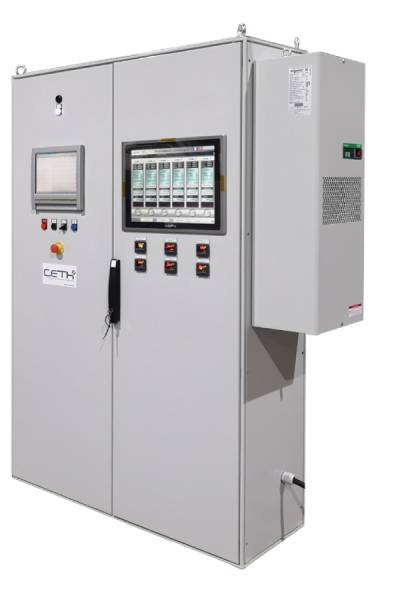 The TT18AR control cabinet has been designed to meet the requirements of the aeronautical sector. It is used for thermal stress relieving treatment on various TITAN or INCONEL components, especially on aircraft engines, and meets the requirements of AMS 2750.
Among other things, it allows :
Regulation of 6 independent PID loops, with possible installation of an unrecorded safety thermocouple, on each control loop.
Regulation by power modulation.
The use of 1, 2 or 3 thermocouples per loop.
Management of thermocouple deviations.
Independent adjustment of output voltages for each zone.
Traceability of repairing parameters and treatment temperatures. (Data logging: Thermocouple No, Part No, Repair No.)
Regulation via PLC managed on 19'' panel PC. Independent programs and possibility of recording "recipes".
Works for stainless steel or inconel sheathed wire resistors.